Our state of the art skin remodelling solutions help improve skin texture and complexion to enhance the skin's overall appearance. Patients can revive aging skin by stimulating the formation of new collagen to improve elasticity, and often see results during and after the treatment, looking and feeling completely natural.
The most commonly treated areas include: lower & upper eyelids, smile lines, forehead, cheeks, mouth and neck, in addition to Face and body areas that exhibit wrinkles, discoloration, active acne or acne scarring.
Forma
Forma Laser by InMode, is a non-invasive sub-dermal treatment for collagen remodeling and tightening.
This new technology is best for the treatment of wrinkles and fine lines on the face, by using radio frequency (RF) technology to stimulate the body's own regenerative response (the regeneration of collagen) to counteract the effects of time and gravity on the skin.
There is no downtime in this effective procedure that will make anyone look years younger!
Fractora
Fractora is a fractional skin resurfacing and subdermal tissue coagulation device that bridges the gap between fractional lasers and surgical procedures. Clinical papers demonstrate outcomes such as:
Improvement in skin complexion.
Reduction in skin irregularities.
Restoration of skin to a more youthful appearance.
This all occurs within one session or multiple sessions, depending on patient preference. Fractora is also used to treat active cystic acne and acne scars.
FaceTite
FaceTite is a complete contouring solution for the face and small areas of the body that helps you achieve results similar to a facelift or brachioplasty without excisional surgery.
How does FaceTite work?
FaceTite is a minimally-invasive contouring solution for the face and small areas of the body in which results similar to a facelift or brachioplasty can be achieved without excisional surgery. FaceTite is an exciting, safe and effective treatment that can transform the signs of aging reversing skin laxity, droopy jawline irregularities like no other non-surgical treatment could do. The mechanism of action is based on RFAL (Radio-Frequency Assisted Lipolysis) withbuilt-in safeguards including real time measurements of skin temperature, impedance monitoring, power cut-off and audible feedback help ensure patient safety. FaceTite can provide superior internal and external fat reduction and skin tightening resulting in three-dimensional remodeling of the entire lower face.
Neck lift using Dr Rovatti's method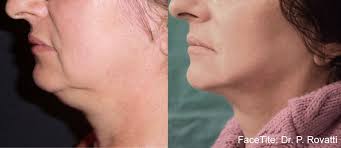 Lumecca
Lumecca is ideal for patients looking to address facial pigmentation, superficial vessels, skin texture and/or photodamage, IPL is the optimal solution. IPL treatments improve skin complexion, reduce skin irregularities and help patients look years younger. it is a breakthrough intense pulsed light (IPL) that is optimized  to treat a variety of skin types and conditions with